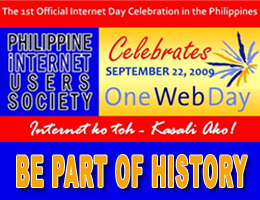 Theme: How Can We Make the Internet Accessible for Everyone?
Prior to the OneWebDay Celebration (Sept 22),
PIUS Inc
is proud to launch a blogging competition in order to encourage discourses and discussions on the role of information technology and the internet in our society, bearing in mind the challenges that the Philippines faces today.
All Filipino Bloggers are invited to join 2Blog+2Act: A Blogging Competition and write a blog post on the topic, How Can We Make the Internet Accessible for Everyone?
The blog should have clear idea/proposal and with strong opening and closing statements. Since the Competition also hopes to motivate people to act, the piece should have strong appeal to encourage readers or concerned sectors to do something to make internet accessible for everyone.
Details on how to participate are found in this site -
http://piusonline.com/index.php/onewebday/blogging.

Eligibility and Language
The 2Blog+2Act Competition ("Competition") is open to Filipino citizens who are residents of the Philippines or any country, who are at least fifteen (15) years of age at the time of this publication, and who have been maintaining blogs as of January 1, 2009. You may write in English or in Filipino.
HURRY, JOIN NOW!!!!